20 Most Promising Fleet Management Solution Providers - 2017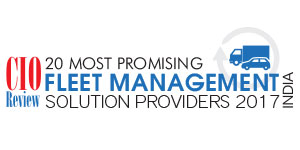 Significant rise in number of accidents and growing concerns about safety as well as operational cost, have brought remarkable progress in fleet management technology realm. Presently, global fleet management industry witnesses increasing demand for improved operational efficiency, enhanced safety, real-time fleet tracking and monitoring, and reduced fuel as well as overall running costs.
Definitely, and advanced fleet management system can aid business to track and maintain their fleets in a quick, cost-effective and accessible way while eliminating risks associated with staff cost and operations etc., thereby results considerable saving in money, resources and time. Hence, enterprises' require reliable fleet management solution providers who can offer effective as well as efficient solutions with minimal investments.
As the necessity for operation management and asset management etc. increases, India creates exclusive opportunities for domestic and international tracking, fleet management and telematics providers a like. With robust fleet management solutions and services, many players have already attained impressive role in the fleet management landscape. Spotting a right partner among myriad fleet management technology vendors, is a daunting task for C-Level executives. Understanding these hardships, CIOReview brings out a list of "20 Most Promising Fleet Management Solution Providers", to reinforce C-Level executives for recognizing trustworthy partners. A distinguished panel comprising of CEOs, CIOs, industry analysts and CIOReview editorial team have scrutinized various companies before finalizing these vendors who are capable to deliver cutting edge solutions and services for vehicle and driver tracking, asset management, driver safety & time management and others.
We present to you CIOTechOutlook 20 Most Promising Fleet Management Solution Providers - 2017.
| | |
| --- | --- |
| ACELR Tech Labs | A provider of B2B & B2C products to meet travel industry needs in areas of Inventory Distribution & Revenue Management, Price Intelligence, Online Visibility & Reputation Management and Social... |
| Amazin Automation Solution | A provider of solutions for Manufacturing, Logistics and Supply Chain Organizations to Cater GPS Vehicle Tracking, RFID, Asset and Inventory Management Solution. A provider of GPS based vehicle |
| Axestrack Software Solutions | A provider of GPS based vehicle tracking solutions and its exhaustive data analytics, who serves varied industries from transportation, construction, schools, utilities, rental carservices, food... |
| Compass Telematics | A provider of an integrated e-platform for monitoring of vehicle movement, transit inventory, passenger safety/ convenience, emergency dispatch and all other vehicle to Infrastructure /control... |
| Elektronik Lab | A provider of full range of satellite communication equipment for using on Land, Sea or Air, and complete suite of Navigation equipment such as GPS, DGPS, AIS, Gyro, Echo Sounders, ECDIS, WECDIS etc. |
| Fleetlet | As today's global car rental industry is attaining momentum due to rising global tourism and increasing globalization of corporate operations etc. |
| IDCUBE Identification Systems (P) Ltd. | A provider of an integrated & centralized, user-friendly vehicle management system which has efficient vehicle tracking and driver monitoring capabilities |
| Intellicar Telematics Pvt. Ltd. | A provider of solutions to track vehicles & drivers to ensure safety at all times. It enables Vehicle owners to connect to their vehicles remotely at anytime |
| iSuraksha Solutions Private Limited | A provider of Vehicle Tracking with GPS Technology with features like over speed alert, Real-time tracking and remote disconnect etc. |
| iTriangle Infotech | A provider of a proprietary Remote Data Acquisition Platform based on GSM-GPSRFID With end-to-end solution for various sectors like Transport, Logistics, Trading, Educational Institutions, Health... |
| Lateral emSoft Pvt. Ltd. | A provider of real-time Vehicle Tracking solutions that are integrated hardware and Software solutions to give visibility of the fleets and performance based data. |
| Numadic | A provider of cost-effective GPS vehicle tracking solution to help Indian transportation and shipping companies for tracking their assets and measure performance. |
| Orange GPS Solutions Pvt. Ltd | A provider of a fully Customized Fleet Management Application and enables to plan alerts and set destination route, get customized reports for any specified date and time, monitor And track in... |
| Purple Global Services and Technologies | A provider of telematics and telemetry solutions globally for vehicle and human tracking,Dispatch and monitoring system. |
| REXAWARE | A provider of Vehicle tracking system (VTS), a sophisticated as well as GPS-based system, To meet vehicle tracking needs. |
| TomTom India | A provider of innovative as well as future-proof navigation technology for global automotive industry including maps for self driving vehicles and accutate traffic Information for better ETAs etc. |
| Trimble Navigation India Pvt Ltd | A provider of management solutions for transport and logistics, that can combine real-time GPS tracking, scheduling, dispatch, RFID, field and back-office processing,and Analytics. |
| VAVE Microtech | A provider of tracking technology solution for fleet management which enables to attain Real-time tracking as well as improved efficiency. |
| VLink Fleet Solutions | A provider of integrated and comprehensive technology platform which enables Real-time tracking of vehicles through web portal and mobile app. |
| Wexoz Technologies | provider of a complete online car rental and leasing management software solution which is developed to support all stages of car rental operations, from front counter Control to back-office... |