10 Most Promising Transport Management Solution Providers - 2019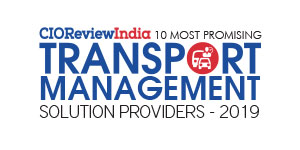 Unless you're living under a rock, you must have noticed the billions of VC dollars poured into the Indian logistics main engines - trucking and warehousing. But what is the output from these investments and what is the sort of mileage that we should expect from this additive to the Indian trucking, logistics and supply chain machine? Increasing urban mobility and accessibility of shipment routes are driving forces of IoT use in transportation management technology. Radio frequency identification, GPS, acoustic sensors, near field communications and more are combining to give transporters more information than ever about the status of a given shipment. This translates into greater profits, more insights into where things are going wrong and stronger visibility. In addition, customer service levels have improved as companies have been able to boost operational times to nearly 100 percent around the globe.
B2C giants like Amazon have proven that modern logistics is not just about delivering goods, but as importantly is about delivering information about the state of the goods to the customer. This trend – realtime supply chain visibility, monitoring and alerts - left the startup garages for the enterprise transportation solution around the world. The Indian carrier vehicle industry is now close to 900,000 units as of Y 2018, witnessed about 20 percent year on year growth, GST implementation, expected vehicle scrapping policies, excessive load clamping is set to bring in additional growth over the next 2-3 years, which are legislative in nature. But the sustainable growth and game changer would be the technology proposition, enhanced vehicle utilization levels supporting the legislative reforms.
We at CIOReviewIndia have understood the technology orientation of India for any particular industry. There fore, we bring to you the top 10 most promising Transport Management Solution Providers 2019. We sincerely hope that these solution providers have the answers to your questions and that their expertise and long standing domain experience could help you deliver your business to your end customer with utterly pure transparency.
We present to you CIOTechOutlook 10 Most Promising Transport Management Solution Providers - 2019.
Top Transport Management Solution Providers
| Company Name | Company Description |
| --- | --- |
| One Network | Deploys Cloud PaaS platform and SaaS business applications across industries including Logistics, Automotive, CPG, Healthcare, Retail, Public Sector and Defense. |
| | |
| --- | --- |
| BNG Infotech | Renders Transportation & Logistics Solution that manages booking, contracts, transshipment, delivery, billing, CRM, fleet compliances, fleet maintenance, and fuel, trip etc. |
| Excelanto Cloud Systems | Provides integrated transport management ERP & fleet and freight management solution. |
| Expedien | A provider of next generation e-solution for transport management, asset management, fleet management and logistics management |
| iCtrlBiz | Offers comprehensive end-to-end IT enabled smart logistics solutions for employee transportation. |
| Info-X Software Technology | Delivers logistics management solutions, logistics outsourcing services and shipping logistic software. |
| Inventrax | Enables track & trace solutions for manufacturing, distribution and transport industries. |
| Power Electronics | Provides intelligent solutions for transport management, traffic management, and parking management. |
| WebXpress | Avails solutions for e-commerce logistics, fleet management, transport and warehouse management. |
| Xicom Technologies | The service portfolio comprises cargo management systems, vehicle tracking & route generation, freight reservation management, ERP, WMS and SCM integration. |