10 Most Promising Fleet Management Solution Providers - 2019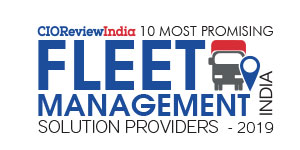 Global digitization happening in all business sectors and fleet management is not an exception. The process is far more complicated than adopting new communication technologies and digitizing the documents. This is about the strategy of devising utterly new business processes and models for more efficient management models for your fleet vehicles. In practice, this includes integrations of new, software centric methodologies across the value chain. Nowadays, a majority of companies are intended to benefit from moving all the processes that are related to service provision into the digital environment.
According to PwC Global Digital IQ Survey 2017, 54 percent of companies that work in logistics and fleet management sector are building their strategy with the intention to increase the revenue thanks to digitization. The intelligent transportation systems, robotic process automation, predictive solutions, blockchain technologies, and AI will reshape the world of fleet management and bring new strategies of business growth. Wide implementation of these cutting edge technologies will help companies to achieve a significant competitive advantage at the market, receive more insights into cargo flow, and build a more efficient and flexible strategy. According to Forbes, one of the main trends in fleet management to watch in 2019 is the so-called Digital Supply Chain. The term is usually used to define the supply chain and fleet management software, communications, and automation efforts that meet specific digital criteria. It's pretty broad and demonstrates that digitization affects all areas of business with almost no exceptions. The digital transformation of the fleet management industry that we can see all around us is the exact example of what Digital Supply Chain is. Many digital supply chain initiatives come in the form of extended supply chain visibility.
We understand the entire shapes shift happening around fleet management processes. More so, we at CIOReviewIndia, comprehend the search for the most happening providers in this domain. Therefore, we at CIOReviewIndia, bring to you the top 10 Most Promising Fleet Management Solution Providers 2019. Being closely scrutinized by a distinct panel of judges including CEOs, CIOs, CXO, analysts and CIOReviewIndia editorial board, we believe that these companies have the capability to impact your last mile delivery with every new technology, approach and strategy.
We present to you CIOTechOutlook 10 Most Promising Fleet Management Solution Providers - 2019.
Top Fleet Management Solution Providers
| | |
| --- | --- |
| Apptmyz Technologies | Specializes in end-to-end logistics solutions, mobile device management, Fintech, custom app development, fleet management and field force automation. |
| ATIC Data Systems | Integrates GPS, mobile and internet technologies to provide satellite based fleet management & distribution management solutions. |
| Avis Lease | Delivers Fleet advisory, vehicle acquisition, damage repair management and mobility services. |
| NDOT Technologies | A product-based company that equips Transportation & Logistics industry with taxi and fleet management systems. |
| Raymach | Renders products & IT consulting services for various departments such as Crew Operations, Fleet & Flight Management, Engineering and Revenue. |
| SEDOTS Info Technologies | Provides solution for Real Time Vehicle Tracking, Bus Tracking and Monitoring,Fuel Monitoring, Taxi Management and Anti Theft Alert Systems. |
| Tata Tele Business Services | Enables web/mobile based Fleet Management Solution for GPS tracking system on duty, driver performance, fuel consumption and route monitoring realtime. |
| Tech SIS | Builds capabilities around RFID & Electronic Article Surveillance, Perimeter & Entrance Security, Fleet Management, GPS Tracking etc. |
| Trimble | Designs Field Service Network to support fleet optimization across industry sectors. |
| WABCO India | Facilitates comprehensive fleet management solutions and digital services to contribute to commercial fleet efficiency. |