20 Most Promising Vehicle Tracking Solution Providers - 2019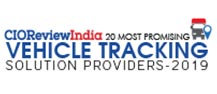 The global vehicle tracking systems market size is expected to reach USD 14957.5 million by 2025, growing at a CAGR of 19.9 per cent. The major factors that drive the growth of this segment are the increasing adoption of intelligent transport systems and safety and security concern within transportation services.
Through the implementation of fleet management systems and increase in cellular tracking systems, tracking the locations of the vehicle movement has become possible even in the most remote parts of the country. Moreover, the technological advancements in the automotive sector such as autonomous vehicles and C-V2X technology mostly rely on the GPS based location tracking systems. With these systems, the reliability and accuracy for navigation can be improved tremendously.
Enhanced speeds, high capacity, low latency communication, energy saving capability are the stunning features and capabilities of 5G that will help in the improvement of the vehicle tracking devices performances. Adopting 5G technology will accelerate the development of autonomous driving technology that uses GPS for route planning and its movement. Therefore, most telecom operators are focusing on the commercialization of next generation 5G technology.
By the looks of it, we understand enterprises are on a constant lookout for Vehicle Tracking solution providers who can keep them in pace with the changing norms. CIOReviewIndia presents a list of "20 Most Promising Vehicle Tracking Solution Providers - 2019". Being closely scrutinized by a distinct panel of judges including CEOs, CIOs, CXO, analysts and CIOReviewIndia editorial board, we believe these solution vendors will help in transforming business processes through their significant offerings.
We present to you CIOTechOutlook 20 Most Promising Vehicle Tracking Solution Providers - 2019.
Top Vehicle Tracking Solution Providers
| Company Name | Company Description |
| --- | --- |
| iDreams Software Solutions | Provides mobile-based vehicle tracking solution for schools to track school vehicles live on smart phone. |
| | |
| --- | --- |
| Acute Track | Provides fleet management solution to efficiently manage fleet and monitor driver activities to prevent any vehicle misuse. |
| Amazon Info Solution | Offers variety of customized integrated solutions from advanced tracking system, fleet management, SMS notification, wireless control and smart sensing. |
| AmbitPro | Provides solution for gathering information on vehicles with Vehicle Tracking System. |
| Apconic Software | Provides end-to-end logistics and transportation management IT solutions to various industry verticals such as Cement, Chemical, Power, Ports, Oil & Gas, Mining, Metals, Textile, etc. |
| Auto Cop Trackpro | Provides easy to use GPS tracking for monitoring, control and recovery of vehicles. |
| Azuga | Offers Vehicle Tracking System and asset tracking solutions. |
| Ctrack | Offer solutions which are powered by key innovations in purpose built SaaS cloud platform, IoT and mobile technologies including the newly emerged 5G technology. |
| EcoCosmo GPS | Provides GPS software solutions for Fleet Management, School Vehicle Management, Personal Tracking, Employee Management, Security Guard Management etc. |
| Fastracker | Provides GPS based vehicle tracking device. |
| Gwtrackers | Offers GPS tracking system in Delhi area mainly. |
| IndTrack Technologies | Provides real time GPS vehicle tracking systems and fleet management solutions. |
| InspectWAY | Offers subscription based IoT-powered vehicle tracking and fleet management solutions. |
| NTRACKLIVE | Offers vehicle tracking system which helps customer drive down their fleet operating costs while improving operational performance. |
| Promise 2 Secure | Offers cloud-based fleet management and GPS vehicle tracking solutions to Automobile Industry, Delivery Companies Banks, School and Public Buses. |
| Purple Global Services & Technologies | Provides Telematics solutions like Fleet tracking solutions and GPS tracking devices |
| Star VTS | Provides vehicle tracking solution that sends alerts for vehicle theft, entry & exit from a client's location, insurance renewal, tyre change, servicing due and much more. |
| VETRACK | Offers real-time tracking with alert facilities for schools. |
| VoxTrail Software Solutions | Provides GPS based tracking devices and IoT-powered software solutions to both individuals and corporate. |
| Yuvtec | Offers Vehicle Tracking and Track-and-Trace solutions for various industries including BPOs, IT companies, schools, tours and travel companies, logistics and special cargo carriers. |