20 Most Promising Fleet Management Solutions Providers - 2020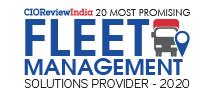 Fleet management is evolving rapidly with the intent to improve efficiency. Increasing urban mobility and accessibility of shipment routes are driving the use of IoT in fleet management. Radio frequency identification, GPS, acoustic sensors, near field communications and more are combining to give transporters more information than ever about the status of a given shipment. This translates into greater profits, more insights into where things are going wrong and stronger visibility. In addition, customer service levels have improved as companies have been able to boost operational times considerably. Modern logistics though is not just about delivering goods, but about delivering information about the state of the goods to the customer. This real-time supply chain visibility, monitoring and alerts have become significant business value adds which fleet management solution seekers are trying to achieve. For them, the sustainable growth and game changer would be new technology adoption that integrates with their existing processes and enhanced vehicle utilization levels. Choosing such a solution provider is a challenge for them considering the large number of options available.
We at CIOReviewIndia have understood this predicament of businesses that are looking for a fleet management solution. Therefore, we bring to you the "20 Most Promising Fleet Management Solutions Providers - 2020". We sincerely believe that these solution providers have the answers to your questions and that their expertise and long standing domain experience could help you transform your logistics operations. The vendors in this listing have been meticulously selected by a renowned panel of CEOs, CIOs, industry analysts and CIOReviewIndia editorial team.
We present to you CIOTechOutlook 20 Most Promising Fleet Management Solutions Providers - 2020.
Top Fleet Management Solutions Providers
| Company Name | Company Description |
| --- | --- |
| Axestrack | Provides Digital Solutions to Logistics and Transportation industry, and offers end-to-end tailored Digital capabilities for building an Enterprise Digital Thread. |
| | |
| --- | --- |
| Acute Track | Provides fleet management solution to efficiently manage fleet and monitor driver activities to prevent any vehicle misuse. |
| Apconic Software | Provides end-to-end logistics and transportation management IT solutions to various industry verticals. |
| Arya Omnitalk | Offers an AIS 140 Certified GPS device not only complying with the Government mandate but field proven over nearly two decades. |
| Azuga | Offers Vehicle Tracking System and asset tracking solutions. |
| BNG Infotech | Renders Transportation & Logistics Solution that manages booking, contracts, transshipment, delivery, billing, CRM, fleet compliances, fleet maintenance, and fuel, trip etc. |
| EcoCosmo | Has expertise in the area of GPS Software Product Development & Research and specially works for development of all kinds of high end GPS Software Solutions for various segments and wide... |
| eMotoEast | Offers a wide range of custom-built fleet management solutions for the entire ecosystem of mobile assets, ranging from trucks and buses to vans, cars, motorcycle trailers and construction machinery. |
| Excelanto Cloud Systems | Provides integrated transport management ERP & fleet and freight management solution. |
| Expedien | Provides next generation e-solution for transport management, asset management, fleet management and logistics management. |
| IndTrack | Provides real time GPS vehicle tracking systems and fleet management solutions. |
| Info-X Software Technology | Delivers logistics management solutions, logistics outsourcing services and shipping logistic software. |
| Numadic | Helps large manufacturers and transporters optimise their logistics operations through logistics monitoring & coordination software. |
| Purple Global Services | Provides a comprehensive suite of telematics solutions including fleet management systems, intelligent taxi dispatch systems, car rental applications, speed limiters, etc. |
| Super Shuttle Logistics | Providing passenger transport services to BPO segments across India through customized services to organizations for Employee transportation and Sports rental. |
| Tata Tele Business Services | Provides a Fleet Management Solution that helps track vehicles through GPS tracking system on duty and more. |
| Uffizio | Provides GPS tracking system to obtain real-time accurate location to track an object or a person and thus ensure the safety of the object. |
| VoxTrail Software Solutions | Provides GPS based tracking devices and IoT-powered software solutions to both individuals and corporates. |
| WebXpress | Renders solutions for e-commerce logistics, fleet management, transport and warehouse management. |
| Xicom Technologies | Offers cargo management systems, vehicle tracking & route generation, freight reservation management, ERP, WMS and SCM integration solution. |